Now BLACK ELK PEAK
The most popular Black Elk Peak (formerly Harney Peak) hiking trail is the southern approach through the Black Elk Wilderness to the summit. Hiking from the northern approach is used less frequently and is a more challenging hike.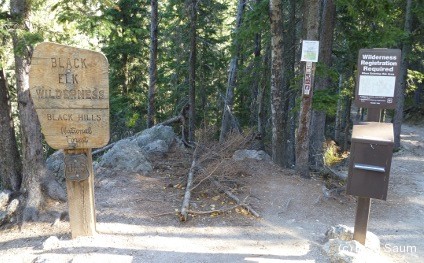 Southern Approach Hiking Trail
Harney Peak Trail Number 9 from Sylvan Lake is the most common route to the summit. The Harney Peaktrail begins at the Sylvan Lake Day Use Area. There is parking available at Sylvan Lake, as well as a store and restaurant. Sylvan Lake and the trailhead are located in Custer State Park.
This path is heavily used in the summer months and easy to follow. Beginning as an easy stroll through the pine forest, the Harney Peak / Black Elk Peak trail becomes more strenuous closer to the summit. The trail proceeds through several switchbacks for the final push to the high point.
Starting at about 6,200 feet, the Harney Peak trail gains 1,100 feet in elevation over the 3.5 mile hike to the summit. The Harney Peak trail requires no technical climbing skills. The typical hike along the Harney Peak Trail is about four to five hours round trip.
Harney Peak Trail Photos