The highest point in South Dakota known as Harney Peak for over 150 years, was renamed Black Elk Peak in 2016. The U.S. Board on Geographic Names officially changed the name from Harney Peak to Black Elk Peak on August 11, 2016.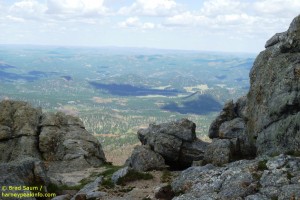 Nicholas Black Elk
This change was in honor of Nicholas Black Elk and recognized the significance of the summit and Black Hills to Native Americans.
Fire Lookout
The fire lookout tower was built upon then Harney Peak, now called Black Elk Peak, to monitor the Black Hills for forest fires.
At 7,242 feet, Black Elk Peak stands prominently as the highest point in the Black Hills of South Dakota.
Standing sentinel over the Black Hills, Black Elk Peak is topped by the stone fire tower that provides a magnificent view of the surrounding landscape. Nestled in a designated wilderness area, it is surrounded by the Black Hills National Forest.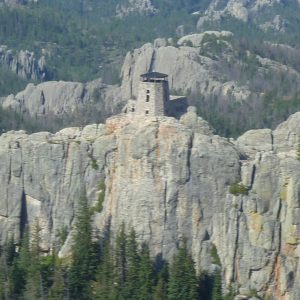 The historic fire lookout tower built upon the remote summit remains as an abandoned shell and is open to the public. The primary building material used by the Civilian Conservation Corps during the mid-1930's construction was native stone manually hauled the nearly four miles to the summit.
Hiking to Black Elk Peak
There are no roads to the summit and it is only accessible by hiking just under four miles. The trail starts near Sylvan Lake in Custer State Park. The trail from Sylvan Lake to Black Elk Peak, formerly known as Harney Peak, is moderately difficult but fairly heavily traveled.
Scared Ground
The granite high point is sacred ground to Native Americans, especially the Sioux. It was upon this peak towering over the Sioux Nation that a young Black Elk experienced a vision. Many years later he would recount that vision publicly as he evolved as a respected elder and medicine man.
Black Elk Peak History
Black Elk Peak has served witness to a wide variety of historical events and people. General Custer famously attempted to ride his horse to the summit, but did not quite make it. Alternatives to walking the trail to the peak have existed through history, including four legs and four wheels.
A majestic presidential mountain carving was contemplated upon Black Elk Peak, or Harney Peak as it was then known. A commanding view of the Black Hills from atop Harney Peak, now known as Black Elk Peak.
Black Elk Peak, previously known as Harney Peak, is a natural, historical and cultural gem in South Dakota's Black Hills. The historical tidbits associated with this one summit were previously largely unknown.
As the historical details are revealed here and in comprehensive historical authority, Black Elk Peak: A History, there is a new respect for Black Elk Peak.
Black Elk Peak: A History (Natural History)
The Black Hills of South Dakota is speckled with grand monuments, forested hillsides, rolling plains, abundant wildlife and granite spirals. The highest point, once Harney Peak and now Black Elk Peak, provides a scenic view that captures nearly all of the region and reaches into four states.