The Black Elk Peak, formerly Harney Peak, Fire Tower was built by the Civilian Conservation Corps from 1935 to 1938. Stones gathered from nearby French Creek were used to construct the tower. All of the building materials were hauled by man and mule along the three mile trail to the summit, now known as Black Elk Peak.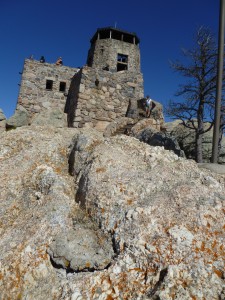 The lookout tower, dam, pump house and stairway were constructed upon the highpoint. The reservoir created by the dam supplied water to the living quarters which were located in the lower level of the fire tower. The comforts of electricity, flush toilets, and a central heating system were incorporated into the remote fire lookout tower.
Black Elk Peak: A History
The History Press has published Black Elk Peak: A History. Author Bradley Saum chronicles the unique and untold stories that are intrinsically linked to the highest point in the Black Hills.
Black Elk Peak: A History (Natural History)
Harney Peak Now Black Elk Peak
The summit of Harney Peak, which has been renamed Black Elk Peak, with the commanding view of the Black Hills was first used in 1911 as a location to watch for forest fires. The stone fire tower constructed by the Civilian Conservation Corps was specifically engineered for the granite summit.
Fire Towers
The Black Elk Peak Fire Tower was staffed until 1965 by the U.S. Forest Service, and then for the following two years by Custer State Park. A watchful eye was placed across the surrounding Black Hills looking for smoke rising from a forest fire. Airplanes, helicopters and other fire towers throughout the Black Hills National Forest, resulted in the Harney Peak Fire Tower no longer being staffed after 1967.
Providing excellent panoramic views of the surrounding pine-covered landscape, the lookout remains at the summit. It is open to those who hike the three miles to the summit. The summit and Harney Peak Fire Tower reside in the Black Elk Wilderness Area, and are only accessible by foot or horseback.
The typical trail to hike to the Harney Peak Fire Tower begins near Sylvan Lake in Custer State Park.