The Black Hills Parks & Monuments in western South Dakota provide a great destination vacation and offer a wide variety of activities. National and State Parks, Forests, Monuments and Memorials in the shadows of Harney Peak in the Black Hills:
Black Hills Parks
Black Hills National Forest – Covering 1.25 million acres of western South Dakota, the Black Hills National Forest is home to Harney Peak. Harney Peak is the highest summit in the Black Hills. Vacation cabins, hotels, and campgrounds provide ample lodging options for a Black Hills vacation.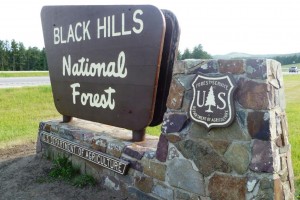 Crazy Horse Memorial – A massive carving in Harney Peak granite is underway to memorialize the Lakota leader, Crazy Horse. There are not many Black Hills Parks that offer the opportunity to see the monument in development.  Not visible from Harney Peak, the immense rock carving is 12 miles from the Harney Peak trailhead.
Custer State Park – The most popular hiking trail to Harney Peak begins in Custer State Park, and continues through Black Hills National Forest to the Harney Peak summit. Custer State Park is home to a wide variety of wildlife, including 1,300 buffalo. Campgrounds, cabins and lodges in Custer State Park provide a launch pad for Black Hills vacations and the hike to Harney Peak.
Devils Tower National Monument – America's first National Monument, Devils Tower is located about 116 miles to the northwest of Harney Peak, in Wyoming.
Jewel Cave National Monument – Located about 20 miles from Harney Peak, Jewel Cave was not discovered until 1900. Jewel Cave is the fourth longest cave system in the world, and is well known for the calcite crystals in a variety of natural colors. Jewel Cave provides an underground experience to supplement the hike to Harney Peak, the highest point in the Black Hills.
Mt. Rushmore National Memorial – Mt. Rushmore is perhaps the most well known of the Black Hills Parks. The back granite slope of Mt. Rushmore is visible from Harney Peak looking to the northeast. Driving distance from Mt. Rushmore to the Harney Peak trailhead at Sylvan Lake in Custer State Park is just 16 miles.
And Other Black Hills Parks…
There are many other Black Hills Parks, including:
Wind Cave National Park

Badlands National Park (just to the east of the Bill Hills)