Harney Peak is located in the central part of the Black Hills, about 39 miles from Rapid City. Harney Peak is surrounded by the Black Elk Wilderness Area, so there are no roadways leading directly to the summit of Harney Peak. The most commonly hiked trail to Harney Peak begins near Sylvan Lake, located in Custer State Park. Sylvan Lake offers a lodge, gift shop and parking for those hiking to Harney Peak.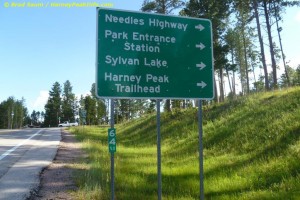 The Harney Peak trailhead at Sylvan Lake is located in Custer State Park. Custer State Park is a fee area, and there are fee collection booths at the entrances to Custer State Park. The trail to Harney Peak starts at the northwest corner of the Sylvan Lake day use parking lot.




GPS Coordinates: For driving directions, use the Sylvan Lake coordinates, since there are no roads leading directly to Harney Peak. The Harney Peak coordinates are also provided for those hiking to the summit with portable GPS units. The hiking trail to Harney Peak is well marked, and heavily used in the summer months.

Sylvan Lake GPS Coordinates: 43°50'44.52″N 103°33'48.57″W / 43.8457°N 103.563492°W
Harney Peak GPS Coordinates: 43°51'58″N 103°31'54″W / 43.86611°N 103.53167°W
Harney Peak Directions
Harney Peak directions from Rapid City to Sylvan Lake:
Take U.S. Route 16 west out of Rapid City about 30 miles to Hill City. Continue through Hill City on 16, and turn east on S.D. Route 87 about 3.2 miles out of town. Continue on SD Route 87 about 6 miles to Sylvan Lake.
Harney Peak directions from Custer to Sylvan Lake:
Take US Route 16A east out of Custer about .8 (8 tenths) of a mile. Turn north on Sylvan Lake Road (SD Route 89 North) and continue 6 miles to Sylvan Lake.
MAPS of Harney Lake and the Black Hills.
Harney Peak directions and map with driving directions from anywhere: